Kitties!
We have a super-duper special treat for you today...we have World Famous Kitty Author SPARKLE as our guest!
We won Sparkle's newest book (this is her second one) in a contest a while back...Kitties, you HAVE to HAVE this book. Here's our review:
"Kitties, this book is chock full of some of the best Cat Advice in the UNIVERSE! We read it eagerly and took copious amounts of notes. We cat-eared the sections we liked, and chewed holes into the pages with our favorite passages. The book is divided into logical sections dealing with play, the litterbox, strangers and MORE. Sparkle deals with all the issues expertly. We think even our Mommy (incredibly dense) was able to grasp the concepts outlined in the enjoyable Q & A format. Photos of Sparkle (Gorgeous!) grace nearly every other page in the book, and there are little bubbles of "Sparkle Says" wisdom throughout, too. The book is printed on nice firm nommable paper…it's a STEAL at $9.95. We highly recommend this book, and we give it 4 paws up!"
And here's a little information about Sparkle herself: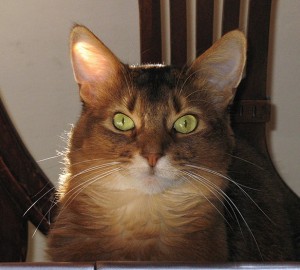 Sparkle is an award-winning author, blogger, advice columnist and supermodel. She is also a cat – a ruddy Somali of champion lineage, in fact, whose father, GC Tajhara's Miles Davis, was twice on the cover of Cat Fancy. Sparkle's first book, Dear Sparkle: Advice from One Cat to Another, won the Wild Card category at the 2007 Hollywood Book Festival and honorable mentions in several other contests. She also recently came home with the Pettie Award — the pet blogging equivalent of an Oscar — for Best Cat Blog. Sparkle lives in Los Angeles with two humans, two feline roommates (both rescue cats), and (unfortunately) a dog.
So, without further ado, we give you
Sparkle!
Tell Your Humans What You Want for Christmas!
By Sparkle
A few days ago I wrote a post on my own blog about lame Christmas gifts I've gotten. While my human was the one who bought these awful things, I should also shoulder a small amount of responsibility because I was not specific enough about what I wanted. Do not let this happen to you! If you give your humans the right clues, they should be able to figure out exactly the right gift to give you this holiday season. So use these tips when you want to drop your humans a hint... and if they still don't get it, maybe bookmark this post for them. Remember: you are not being bad! You are merely trying to explain what presents you want.
1. If you want a new scratcher, the best thing you can do is - scratch! You can even tell your human if you want a horizontal or vertical scratcher: let them catch you scratching the rug if you want a horizontal scratcher. Use the side of the couch or a chair if you want a vertical scratcher. Do both if you want a whole cat tree.
2. You know those cool shelves that some humans attach to the wall for their cats? You can have those too! Just jump repeatedly on the china cabinet or on the mantel. You do not have to knock off or break anything - in fact it is better if you don't, because humans seem to be even more strongly motivated at the suggestion that something like that might happen, rather than when it actually does happen. Jumping on mantels and cabinets is another good way to hint that you could use a cat tree.
3. Let your human know you want treats by begging at dinnertime and jumping on the kitchen counter in search of tastes. Get really excited over your favorite flavors, such as salmon or turkey!
4. If you don't have enough cat toys, you can drop a big hint by leaving your humans a bug on their pillow! If you want something that flies through the air like Da Bird, then leave a flying creature like a moth. If you prefer toy mice, or something you can chase along the floor, leave a beetle or a cricket. If you find anything bigger than a bug, say, a real bird or mouse, then you probably don't need any more cat toys. You are already doing fine on your own.
Of course the Katnip Lounge cats don't have to do any of this because they have the pawsome Catio! But if you are not a cat who has everything, then try these out, and keep at it until you get exactly what you want!
Kitties, we all deserve exactly what we want. And this book will help you get it!
Purchase her book
HERE
, and live the rest of your life in Fabulous Feline Style.
And don't forget to visit her
blog,
it's a blast!