Kitties!
The Baby here.
As you know, our Daddy has an
Etsy store
, Tie Dyed Hippy Wear...and it was only a matter of time before he started dying pet clothes...much to our (initial) dismay.
But you know what? When Daddy told us what these instruments of torture shirts really were, we were totally "LET US AT 'EM", because he calls these sleeveless ribbed tees MOUSE-BEATERS!!! And you know we are all about beating the mice.
Bibby in Multicolor.
Furthermore, these shirts are pretty comfortable!
I weigh nine pounds (Mommy--Ladycats don't reveal their weight!) and this shirt is size Medium.
It doesn't make my butt look big at all.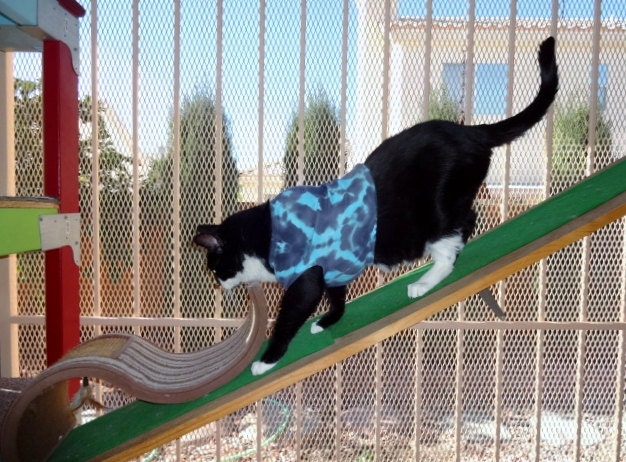 Sly, wearing the Blue Leopard pattern.
Sylvester squeezed into a Medium, too...which shows the shirts have plenty of stretch to 'em...because he weighs NINETEEN pounds, ten more than ME!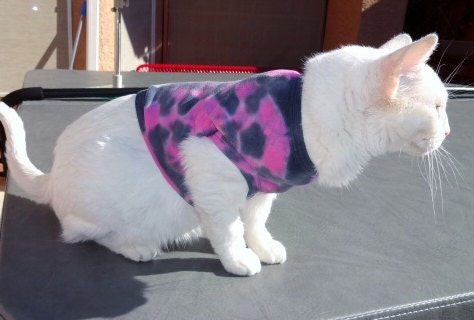 The Pink Leopard.
I also tried on a Small shirt, which fit me PURRfectly.
Kitties, don't be left behind the fashion curve, steal your peeps plastic and buy your very own
Mouse-Beater
* shirt today. Daddy also does custom orders (which take some time) if you have something special in mind...
Happy Cyber Monday!
XX The Baby and Sylvester XX
*also compatible with fake mice.